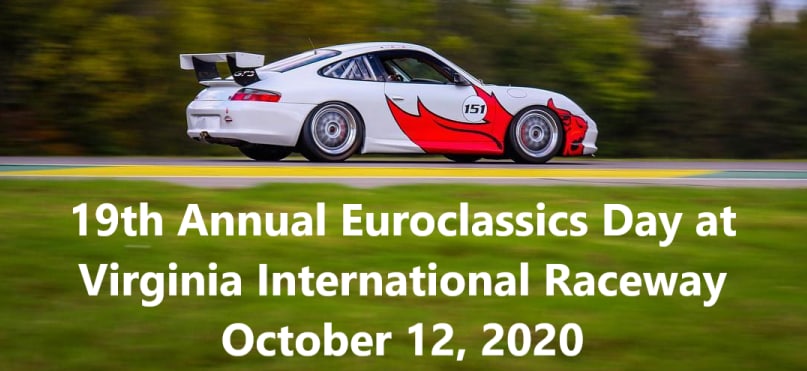 Join Euroclassics Porsche for its 19th annual Driver's Education Event and Customer Appreciation Day. Everyone will bring their own car and enjoy a day at famous VIR (full course). This is a great opportunity for drivers to get to know their cars, test their abilities on a real racecourse, and enjoy lots of track time. Guests are welcome.
All participants must have their vehicles Tech Inspected prior to the event. Tech Inspections are free if done at Euroclassics (owners responsible for brake flush costs - please call 877-715-3535 for more information). Drivers may take their cars to another service facility of their choosing, but will need to compensate that shop.
This event is open to any driver 18 and over with a valid US-issued driver's license and with any track worthy make/model of car.  Please bring your license with you to registration.
There will be two (2) driving groups - Experienced (Red) and Touring (Green).
Helmets are required for the "Experienced" group, but not required for the "Touring" group.
For those that want to learn from a pro... We will have pro race car driver's available for private instructions. More information to come.

Location: Virginia International Raceway - 1245 Pine Tree Rd, Alton, VA 24520