Explore the Advantages of the 2021 Porsche Taycan
A lot of cars can offer performance or luxury. Like the new Porsche Taycan, few others provide Petersburg drivers with both the elegant all-electric-driven package you deserve and the speed you crave. Euroclassics Porsche knows there is a lot to love when it comes to finding the sophisticated and athletic sports car you seek to upgrade your daily routine. Your voyage starts in Midlothian, VA, with the 2021 Porsche Taycan.
What is New in the 2021 Porsche Taycan?
The new Porsche Taycan continues to prove it has what it takes to get you around Henrico in style. From a technological standpoint, it adds a color head-up display, which projects vital information for your drive around Petersburg right into your field of vision without being intrusive. When it comes to your ride, the new Smartlift Function ensures you get the smoothest commute possible through Midlothian, VA. This adaptive air suspension system can be programmed to adjust to certain locations or circumstances. It lifts the height of your 2021 Taycan to give you the most comfortable ride possible.
Active Lane Assist and the state-of-the-art InnoDrive system are added to the driver-assist system as a way to make driving easier and safer for your travels. InnoDrive adapts your Taycan to your elements by adjusting your speed in relation to your road conditions or traffic situation. Battery Preservation is a new system for 2021 that helps regulate the charging capacity of the charging process. You'll also find even more colors available, with seven brand-new options to discover. So, it is safe to say there is a lot to explore with the 2021 Porsche Taycan.
Is the Porsche Taycan Fully Electric?
Believe it or not, the Porsche Taycan gets all of its power from two electric motors and a 79 kWh lithium-ion battery pack. Two different variations of an all-electric system. The first, found in the 4S trim, earns you a combined 429 horsepower. A more powerful system boasts an incredible 616 horsepower in the Turbo and Turbo S trim levels. Perhaps best of all, you won't have to stop at the gas station to fill up. Its electric all-wheel-drive system gives you the confidence to test your limits on the streets in all manner of conditions.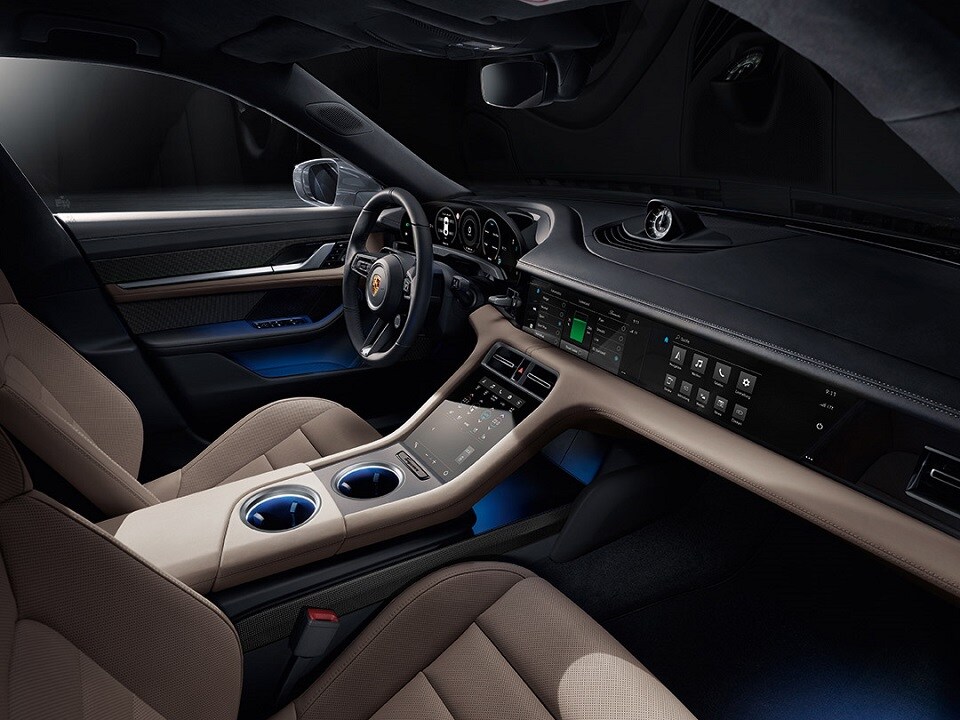 How Fast is the Porsche Taycan?
With the unique powertrain of the Porsche Taycan, it is safe to say you will get a driving experience unlike any you've had so far. This beauty was built for speed as well as style. As such, it hit speeds as high as 162 miles per hour when tested on the German Autobahn, the test track of some of the most luxurious and powerful cars ever made. In case you were wondering where that puts the Taycan in the annals of speed champions, it rates it among the fastest cars ever produced. Of course, Euroclassics Porsche would not ever encourage you to attempt anything close to these speeds on the streets of Williamsburg.
What is the Taycan's Battery Range?
How far do you plan on going? Chances are the new Porsche Taycan can get you there on a single charge. Thanks to the Porsche Intelligent Range Manager, you can expect to drive an EPA-estimated 201 miles on just your battery. That is a lot of trips to Richmond and back. Few other all-electric luxury models can boast a better return.
Porsche Taycan Interior Design
The new Taycan can haul as many as four people around Henrico inside a supportive and spacious interior. Partial leather upholstery is standard, but you can go all out with a full set of leather or suede upholstery. The infotainment setup is simple but futuristic looking. A 10.9-inch infotainment touchscreen and Apple smartphone and navigation make each trip fun and confident experience. It brings you the features you love for comfort and convenience.
When you need to feel the wind in your hair, as you cruise through Petersburg, but still crave an efficient drive, the 2021 Porsche Taycan is the hybrid car that is calling you. Visit Euroclassics Porsche and climb behind the wheel of the new Porsche Taycan and discover the difference it can make in your commute.
Schedule a Test Drive
* Indicates a required field